Homeward Bound Lobby Open

We are happy to announce, The Spaw lobby will reopen to the public as of Tuesday, May 11th. We will still require facial coverings, as recommended by the CDC, both inside the lobby and Lilly Pad (courtyard). Curbside service is available by request only.
Homeward Bound has always employed the highest level of sanitation and disease control protocols for the safety of you, your pets, and our staff. Personal Protective Equipment (masks, gloves, earplugs), hand-washing, disinfecting tools, tubs, tables, and Spaw rooms between each pet has always been a part of our standard practice.
The Spaw has become our "safe zone". It was (and continues to be) rigorously sanitized to keep the Spaw self-contained for both the health and safety of you and our staff. Additionally, our staff count remains below 5 members each day, and because each staff member has their own workspace (independent Spaw room), we are able to maintain "distance" during the workday as recommended by the CDC and WHO.
Expanded Service Hours: We have expanded our hours of operation to Tuesday – Saturday from 8:30 am – 5:30 pm to accommodate currently scheduled appointments and incoming requests. Please note, some may see an adjusted appointment time from 9:00 am to 8:30 am. We hope this does not cause an undue burden. Please let us know if this an issue or concern.
Shuttle Service: Will be available for all Spaw appointments and increased protocols were instituted on March 15th for both shuttle services as well as our pet nanny service.
We hope to provide some "normalcy" for you and your pups while we move through this crisis together and all experience dramatic reduction in daily activities in the community as a whole.
Our Mission
The Homeward Bound team is committed to the mental, physical and emotional well-being of the pets under our care and to delivering exceptional pet care and client service. We will ensure a safe and secure environment, treat every animal with respect and kindnesses and maintain client privacy, security and confidentiality.
Our 5 Senses Spaw Service is a whole body approach to dog grooming. Built around the natural cycle of the hair and skin, and an awareness of activating their senses; smell, sound, sight, touch and the all powerful taste, we are focused on the complete pup from the tip of their nose to the tip of their tail and toes.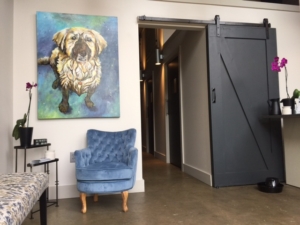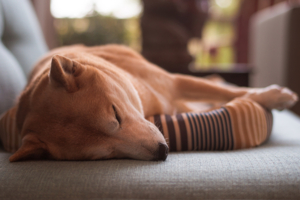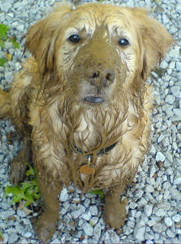 Aromatherapy, Scent memory, and the positive grooming experience
A dog's sense of smell is 1000 (or more!) times greater than that of humans. Keeping that in mind, imagine the stress your pup must feel being groomed in the veterinary or kennel environment. The smell of sick, stressed or frightened animals does not make for a positive grooming experience.
Homeward Bound, Inc. uses a proprietary formulation of the Happy Dog calming oil diffused in the salon. This blend was created by Dr. Ann Farrell, of The Healing Arts. We understand that scent and scent memory contains the strongest data on which dogs depend on to determine their safety (or danger) in their surroundings. Their first impression in the Spaw is made before the grooming process even begins. They are met with the calming scents of Lavender, Sweet Marjoram, Frankincense, (citrus), infused with Bach's Rescue Remedy Water in our Happy Dog scent! Our use of Happy Dog is  just one of the many tools used to ensure your dog has a positive Spaw day experience.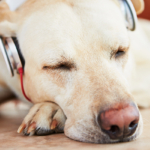 Classical or Ethereal Music
Ever walk into a grooming shop or veterinary office met with the sounds of the local rock station playing on the radio? Did you know that much like humans, a dog's mood, sense of calmness and well-being is directly impacted by auditory stimulus? There have been numerous studies concerning the affect music has on a dogs mood and temperament all with similar results.  One such study led by Deborah Wells, a psychologist at Queen's University Belfast, showed dogs are impacted by varying  genres of music. "Our own research has shown that dogs certainly behave differently in response to different types of music, e.g., showing behaviors more suggestive of relaxation in response to classical music and behaviors more suggestive of agitation in response to heavy metal music,".
Ethereal music is played in the Spaw with the goal of providing a relaxing, positive experience for your loved one.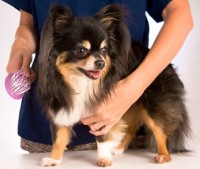 Gentle and Caring
Most dogs enjoy being touched, massaged and pet. Studies show that a lovingly handled dog is a healthier dog. The touch of the human hand improves the functions of virtually all the sustaining systems: respiratory, circulatory, digestive and so on. The same benefits have been proven for humans as well! In new born puppies, a frequently touched puppy is not only happier and healthier, but also better behaved. Dogs like humans, find comfort in touching another living being, which is one reason we get along so well!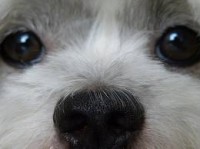 Soft and Natural
We uses as must natural and low lighting as possible in the Spaw. While our groomers must be able to see when they are working, we also understand that harsh, fluorescent lights are not pleasant for your canine child. And our large front windows allow your pup to enjoy the view of the Spaw Pad too!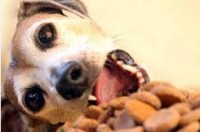 Yummy and Healthy
Finally, the good stuff! Now that we have stimulated and satisfied all of their senses, we will "set" that positive experience by finishing their service with a yummy treat! (Only healthy and grain free of course)
All Spaw service levels include
Double conditioning treatment
Bath w/massaging bath brush
Doggone Clean! shampoo service
Tooth brushing, foam or spray treatment
Neaten paws, pads & feet
Neaten, card & clean eyes
Blueberry facial scrub
Ear cleaning
Hand dry & brush out
Anal gland expression
Nail trim w/dremel
Sanitary cleaning
Condition paw pads
No-nonsense essential oil spray (Our Signature Scent!)
Hair bow or scarf
Healthy treat!
A full body haircut, overall coat maintenance, undercoat removal, scissor trimming or general shape up.
Starting at $65
Example of Breeds: Bichon Frise, Yorkie, Maltese, Havanese, Golden Retriever, Cavalier King Charles, Papillon, Shih Tzu, Border Collie, Cocker Spaniel, Springer Spaniel
Additional fees may apply for dogs with mats, those with specialty cuts or with coats which have not been regularly maintained.
For the frequently groomed pup in those in-between times. Scissor-trim face, feet and fanny only!
Starting at $50
Additional fees may apply for dogs with mats, those with specialty cuts or with coats which have not been regularly maintained.
When they don't need a haircut at all!
Starting at $40
Examples of Breeds: Beagle, Boxer, Mini Pin, Jack Russell, Pug, Labrador Retriever, Boxer
Additional fees may apply for dogs with mats, those with specialty cuts or with coats which have not been regularly maintained.
Puppy's First Grooming! For puppies under 16 weeks. Start them off right with this gentle, fun introduction to The Spaw! The perfect "cut" is not the goal; it's an introduction to the sights, smells, sounds, feel and taste of The Spaw. An exercise in trust building! After all, they're already perfect! 45 minute service
$50
Additional fees may apply for dogs with mats, those with specialty cuts or with coats which have not been regularly maintained.
This Spaw treatment service is tailored for the geriatric pup. With patience and tender-loving care, your senior pup is treated to a stress free, therapeutic oxygen-ion whirlpool bubble bath infused with relaxing lavender oil. This treatment will sooth and rejuvenate your senior pups aching muscles and joints. Spaw treatment products customized to their specific coat and skin care needs.
$18
Basic shampoo service. Aloe Vera, Panthenol, Jojoba and Vitamins A,D,E shampoo removes dirt and oil. Paired with Luxury Moisturizer leaves them fresh and clean!
Deep cleansing whitening formula w/optical brighteners to restore and enhance white coats and markings. Paired w/Plum Perfect Crème Rinse for optimal whitening, body, shine and a fresh scent!
Silky Show Shampoo w/Safflower Oil and Silk Proteins cleans, conditions and provides shine keeping their locks smooth and tangle free. Finished w/luxury Aloe Silk Hair Restore leaving the hair full of volume and shine.
Tailored for the spoiled pup! They're treated to a stress free, therapeutic oxygen-ion whirlpool bubble bath infused w/lavender oil and Epsom salt. This treatment will rejuvenate your pups muscles, joints, and soothe the soul!  10 minute soak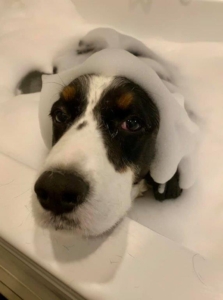 Tailored for the geriatric pup to ease and rejuvenate your senior pups aching muscles, joint pain and reduce inflammation. Your senior pup is treated to a stress free therapeutic oxygen-ion whirlpool bubble bath infused with salts and organic lavender oil finished with our 15 minute soak time
Channel their inner chi with this natural formulation of Chamomile, Hops, Ginger Root, Taurine & Tryptophan. It's like a cup of warm tea for the soul! (small/large)
10, 20 or 30 minute Brush-Out Sessions. Recommended every 2 weeks for long, curly coated breeds and Doodles to eliminate painful matting between grooming sessions.
Have questions about The Spaw or need to make an appointment? Please contact us below.
Follow The Spaw On Social Media
Keep up with all our furry friends online!
The Spaw by Homeward Bound
426 S. Lamar Blvd, Oxford, MS 38655
662.234.1097, line 2
by Appointment Only
Tuesday – Friday
9 AM – 5:30 PM
Saturday
9 AM – 3 PM